CROW (Conserve Reading on Wednesdays)
Wednesday, 1st September 2004
Maiden Erlegh Nature Reserve ~ Meadow raking and bank profiling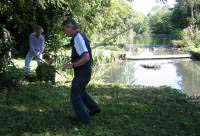 This was one of our frequent visits to this site. One of the joys of visiting this site is that we seldom know beforehand what task (or tasks) we will be undertaking, and this visit was no exception.
The morning was spent clearing recently cut vegetation from one of the wild flower areas. Leaving the vegetation to decay would increase the soil's fertility, improving the growing conditions for the grasses to the detriment of the wild flowers. Clearing also helps scatter the ripened seeds.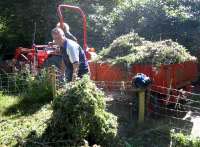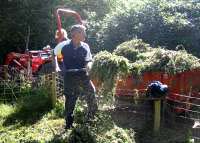 Loading the trailer.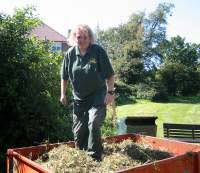 Claire, one of the rangers, compresses the load.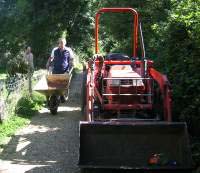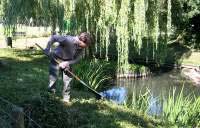 Grahame, the head ranger, joins the fun!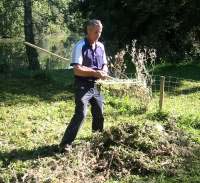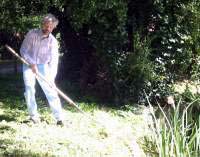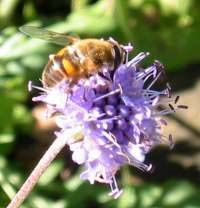 A local resident enjoying the fruits of our labour.
By way of a contrast, in the afternoon we worked on re-profiling part of the lake bank to make it less steep allowing the introduction of more water loving plants and in particular, a reed bed to be created. Note: A extensive area of reeds has now been planted with which CROW assisted on a visit in the May 2006.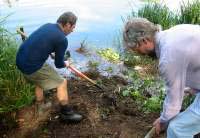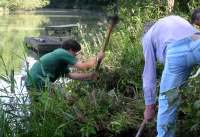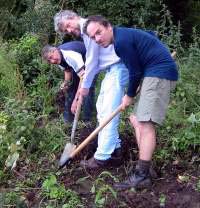 The CROW team working hard.
Created: Sunday, 16th July 2017
Photographs: Unknown